SINK OR SWIM: DISCOVERING NEW STROKES IN EDUCATION AT POST IN RIGA / CORINA L. APOSTOL
[This piece first appeared on artandeducation.net on March 24th, 2022.]
A lot of people think that there are only a few swimming strokes that exist; the front crawl, back crawl, breaststroke, and maybe the butterfly stroke (or dolphin stroke) sounds familiar too. These swimming strokes are used in swimming competitions and that is where you probably know them from. But perhaps you know these swimming strokes also from your local swimming pool where you or your child get swimming lessons. Nevertheless, there are much more swimming strokes than one might think! [1]

—inspirational quote at POST, from "Historical-didactic overview of 150 historical and less-known swimming strokes"
Art academies have traditionally developed and passed on certain artistic styles and approaches. In the United States in the twentieth century, for instance, leading avant-garde figures at Black Mountain College in the 1950s, CalArts in the 1970s, and UCLA in the 1990s taught the next generation of experimental artists. But in Latvia and the other Baltic states during the Soviet era, experimental art practices developed outside established academies, which were tasked with teaching skills and techniques, and innovative and critical art practices were mostly transmitted by word of mouth or in private circles. Maintaining records of experimental ideas and teaching practices was prohibited, and possession of such documents could lead to exclusion from public exhibitions or the Art Academy and Artists' Union. Before the dissolution of Soviet Latvia, most artists had to pursue their practices within the framework of artist unions and in conformity with the ideological principles of the socialist state in which they lived. [2] Several artists and artist groups developed alternatives to state-sanctioned art, sometimes even alongside their own "conformist" practices, but experimental art—across different mediums, social approaches, conceptual strategies—became part of the academic curriculum only after Latvia's independence in 1991.
The consequences of such insularity were significant not only for artists working during the Soviet period but also, and especially, for post-Soviet generations of artists. Artists from the Baltics today are expected to have the skills, knowledge, and experience necessary to work on the global stage despite their formal education not thoroughly preparing them for this task. Eastern European art academies, in general, continue to privilege traditional approaches to painting and sculpture over contemporary art and critical thinking. In response to this state of affairs, POST, a unique multidisciplinary master's program within the Art Academy of Latvia initiated by artist, writer, and educator Kristaps Ancāns in 2020, [3] is committed to deepening artists' community engagement, expanding art education in the region, and exploring "ideas of art in context." [4] To continue the swimming metaphor taken up by POST, the program utilizes traditional currents of art production as it engages students to invent new ways of navigating the choppy waters of the post-Soviet, post-contemporary, post-internet twenty-first century. Not merely floating along, POST encourages a plurality of thought that exceeds the confines of traditional education and the art market, pushing the boundaries of art, criticism, humor, and life.
The group of creatives behind POST—Ancāns, art historian and curator Ieva Astahovska, philosopher Artis Ostups, literary critic and musician Jānis Ozoliņš, artist and curator Kaspars Groševs, poet Kārlis Vērdiņš, artist Armands Zelčs, and artist Amanda Ziemele—have created a free educational and artistic platform that sustains the micropolitics of collectivity and democratic aesthetics and politics. They write, draw, photograph, build, and film every day to fulfill their artistic and cultural mission and share their knowledge and experiences with the public in exhibitions large and small. POST's tutors and students are primarily concerned with art and civil society and culture's capacity to reveal what was once unseen or to help audiences see society from a different perspective. POST and similar programs in Eastern Europe are vital as they represent an evolution from both socialist and post-socialist educational models while critiquing Western canons and subverting the idea of "catching up to the West." [5] Given its unique geographic and cultural position, POST actively questions artistic and historical processes, engaging propositions to imagine alternative scenarios for a changing world. Such scenarios are grounded in knowledge of one's own context, of living and working in an unstable society and region of Europe, where state powers have changed dramatically and one must build a foundation on shaky ground. POST was designed with the foresight that "normality" or "stability" may never be achieved in Eastern Europe or Europe entirely and that these conditions may be altogether illusory.
Students Agate Tūna, Krišjānis Elviks, and Madara Gruntmane creating posters for a protest in solidarity with the people of Ukraine, 2022. Photo by: Corina L. Apostol.
I first visited POST in September 2021 at Ancāns's invitation. Housed on the top floor of the former Faculty of Biology Building of the University of Latvia, a grand Russian imperial neo-Renaissance complex from 1898 in need of repair and renovation, POST was aesthetically and conceptually removed from the art academy and its tidy neo-Gothic building and traditional curriculum. Inside, walls were hung with portraits of the biology faculty's former dignitaries, and cabinets of butterfly and geological specimens, taxidermy, and elaborate scientific equipment lined its corridors. Occupying several rooms undergoing renovation, POST had intermittent electricity, no internet, no equipment, and barely any furniture. But then as now, Ancāns and his colleagues were welcoming and generous, filling the space with their own energy, palpable and electric. Their commitment to making POST a reality was as unmistakable as the sophistication of their thought. While their practices and personalities appear very different on the surface, over the course of my interviews with them I found their similarities run very deep, especially their philosophy of art education. Most of the core tutors were academically trained in Latvia, but they found after years of studying still lifes that life around them was anything but static. Latvia changed dramatically following the dissolution of Soviet Union in the 1990s and the integration into the European Union in 2004, and as artists, poets, and writers, POST's tutors have tried to engage with these developments, always aware of how art education's context might shift and how its possibilities could evolve.
For the founding members of POST, culture is the answer to many of the questions brought on by the pandemic and a means of negotiating entry into the post-pandemic era and the sense that there is no "normal" to return to, as, at the time of writing, Putin's invasion of Ukraine makes clear. In our conversations, Ancāns, who was educated at the Art Academy of Latvia and Central Saint Martins in London, reflected on the psychological and social consequences of maturing as an artist in post-Soviet, independent Latvia and within the economic conditions that informed his education in the UK. POST, he said, "doesn't pretend to be a massive export product of students like in most Western universities. We have a two-year program because one year is not enough to deepen one's studies, and art education is free here. It's important that we don't accept a large number of students, and we give each of them the time and attention they need to fulfil their potential." Ancāns's educational practice and artistic work responds to a hunger for new ideas, processes, and creative outputs and a desire to change not only Latvia but the wider world. [6] Both he and his colleague, artist Amanda Ziemele, a graduate of the Art Academy of Latvia and Dresden Academy of Fine Arts, said that while they may criticize academic structures in Latvia that don't foster experimentation and theoretical approaches, they nevertheless have managed to remain collegial and collaborate with POST's host institution. In a country where criticism of institutional practices can easily isolate artists, POST's critical distance from the Academy has allowed it to abide by its own principles and maintain an intimate sense of community: "While most professors are struggling with their universities," Ziemele said, "we have a remarkable group of colleagues, we get along very well. It is rare."
POST's artists-tutors approach art education from a determined, conceptual position. The teaching adheres to a tripartite structure—"Practice," "Theory," and "Context"—that focuses on social and political issues with a dash of humor, satire, and irony. In Baltic cultures, satire has long been understood as a political tool, beginning in the period of serfdom in the seventeenth century and through the Soviet era. In the 1980s and early '90s, satire offered dissident or nonconformist artists freedom to evade censorship and push the boundaries of critical thinking. Moreover, when the country had to recreate itself on its own terms following the dissolution of Soviet Latvia, satire, humor, and irony helped generate communication and belonging. This tradition is embedded in POST as a way of thinking for tutors and students alike, revealing new ways of practicing. No topic is taboo or too broad to be considered a potential influence on the students' work: seminars on perfume and art by Marika Rozenberga; Ancāns's workshop on kinetics and sculpture; sculptor Glebs Pantelejevs's politically incisive presentation on Nazi and Soviet monuments; a memorable talk with Didzis Kalniņš, the founder of Bolderaja, a Riga bookstore and art venue publishing materials on sexuality, gender, and the avant-garde; and a visit to a "Meteorite Museum," a local hobbyist collection related to meteorology and astronomy, have all shaped the curriculum. POST encourages art practices that are culturally, politically, socially, economically, geographically, and institutionally engaged, and the program, artist-tutor Armands Zelčs said, is addressed to "students who lack a portrait in a landscape."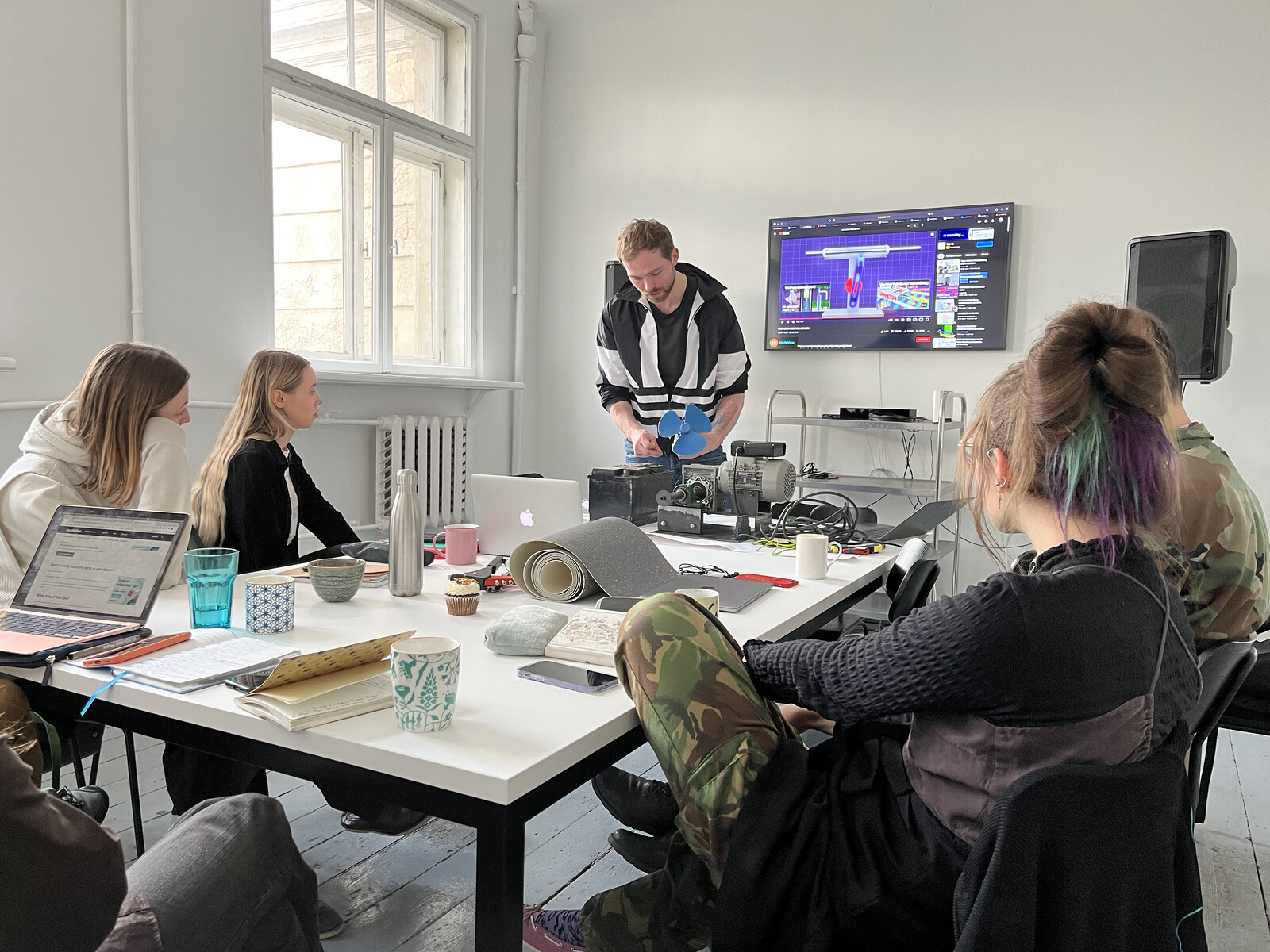 "Modulating the Mechanical Movement" workshop led by Kristaps Ancāns, with students Marta Viktorija Agruma, Agate Tūna, and Anna Malicka, 2022. Photo: Corina L. Apostol.
Many of POST's eight students themselves come from nontraditional backgrounds. Alise Putnina, a contemporary dancer and choreographer who combines her practice with visual art, said that "coming from a different playground, these studies mean being out of my comfort zone most of the time." Inspired by seminars on voyeurism and scopophilia, she has gone on to incorporate the "language of talking about sex, gender, and the body" in her MA work dealing with "trauma, affect, and grief." Dzelde Mierkalne said that POST came around when she was "longing for a sense of creative freedom," as she did not fit into "any of the boxes that are the other departments of the academy." Krišjānis Elviks explained that he chose to come to POST to develop "in a more liberal environment since the program is new and doesn't have imaginary 'right' ways of doing art."
Students are routinely asked to present their own research, outline developments in their practices, and explain the contexts in which they operate, which in turn generate new conversations. POST is their platform to deal with their chosen material while paying acute attention to human behavior, folly, and self-contradiction through an analytical yet compassionate approach. Along these lines, the "Out of Context" course deals with "topics and phenomena related to the question of what it means to live as a body, including tickling of the mind, procrastination, personal hygiene, cognitive training, etc., becoming a possible momentum, an unexpected turn in further creative activity." [7] Here, students consider daily habits and the processes that accompany them, the importance of which are often overlooked when addressing essential and complex issues in art. These explorations of the everyday occur alongside studies of literature and film, and this contextual thinking informs the students' work in unexpected ways. Exciting to both students and tutors is the opportunity to think profoundly together about some of the most pressing questions of our time and come away with different views of the world and a willingness to engage more deeply with others who need care. As Ancāns summarized, "We cry together and we laugh, and we grow closer in our examination of human experiences." With characteristic humor, Zelčs said that POST is an experiment in challenging what art education is or might be: the group—tutors and students—is dedicated to asking how the mind charts relationships gleaned from all manner of contradictory information and how epistemology shapes individuals, society, culture, and, by extension, the world "to cultivate a wide range of interests, skills, beliefs, and an indistinct view of the purpose of life." And indeed, one of the keys to POST's success is that the tutors and students have not abandoned their keen senses of irony and make use of the subversive power of humor in their work. Part and parcel of the approach described by Zelčs is to invite all kinds of creatives to POST, not just artists, writers, and poets but also theater performers and directors, musicians, and public intellectuals.
In seminars on "Practice," the tutors emphasize the search for an aesthetic and conceptual understanding of form, whether tangible or intangible, two- or three-dimensional, digital or performative. Encouraging their students to "disassemble and reassemble" and "transform anything at their discretion so that it becomes something else," POST tutors do not shy away from addressing the hard truths of a changing world, without pretense or moralizing. [8] As POST tutors have autonomy from the Academy over the curriculum, most subjects deal with emotional, philosophical, and existential issues. The program is dedicated to social concerns and to evolving human conditions from a position of ferocious authenticity, dignity, and integrity. Some discussions deal with the most urgent topics, such as the role of artists and art workers in the struggle against the war of aggression waged by Putin's Russia on the Ukrainian people. In February 2022, tutors organized a workshop on protest posters with students and participated in an anti-war, anti-imperialist protest in solidarity with Ukraine in front of the Russian Embassy in Riga. The tutors, Ancāns noted, consider it necessary for students "to go out into the world from the Academy. They need to talk about things, reason and debate, and they need to be prepared to do that."
A defining characteristic highlighted by students and tutors alike is the special attention to "Theory" in relation to the "Practice" and "Context" blocks. Agate Tūna, a student whose photography, installation, and oral history works focus on the post-Soviet popularity of esoteric practices, said, "This is important because the student is not only prepared with the practical or technical artistic skill set. We're learning to interpret and look at global issues from different points of view, and we're encouraged to express our opinion through various means of expression." POST seeks to introduce students to a range of theoretical perspectives that have shaped discourses on art and visual culture in the late twentieth and early twenty-first centuries, exploring how artistic practice and theoretical and political matters intersect. For example, students are introduced to contemporary art and critical theory through the works of Boris Groys and Terry Smith; perspectives on postcolonialism, post-socialism, and cultural hybridity through the writings of Madina Tlostanova and Homi K. Bhabha; notions of the Anthropocene and the post-human through Rossi Braidotti and Eglė Rindzevičiūtė; and feminism, gender theory, and critical race studies through Laura Mulvey, Kobena Mercer, Judith Butler, and Gayle Rubin. Texts on trauma and memory studies, disability studies, psychoanalysis, ecocriticism, and new historicism also inform the curriculum. In their seminars, tutors Jānis Ozoliņš and Kārlis Vērdiņš examine cultural exchanges in the Baltic, East-Central, and Northern European regions through focused reading and discussion on critical theories and art and invite special guests to offer insights.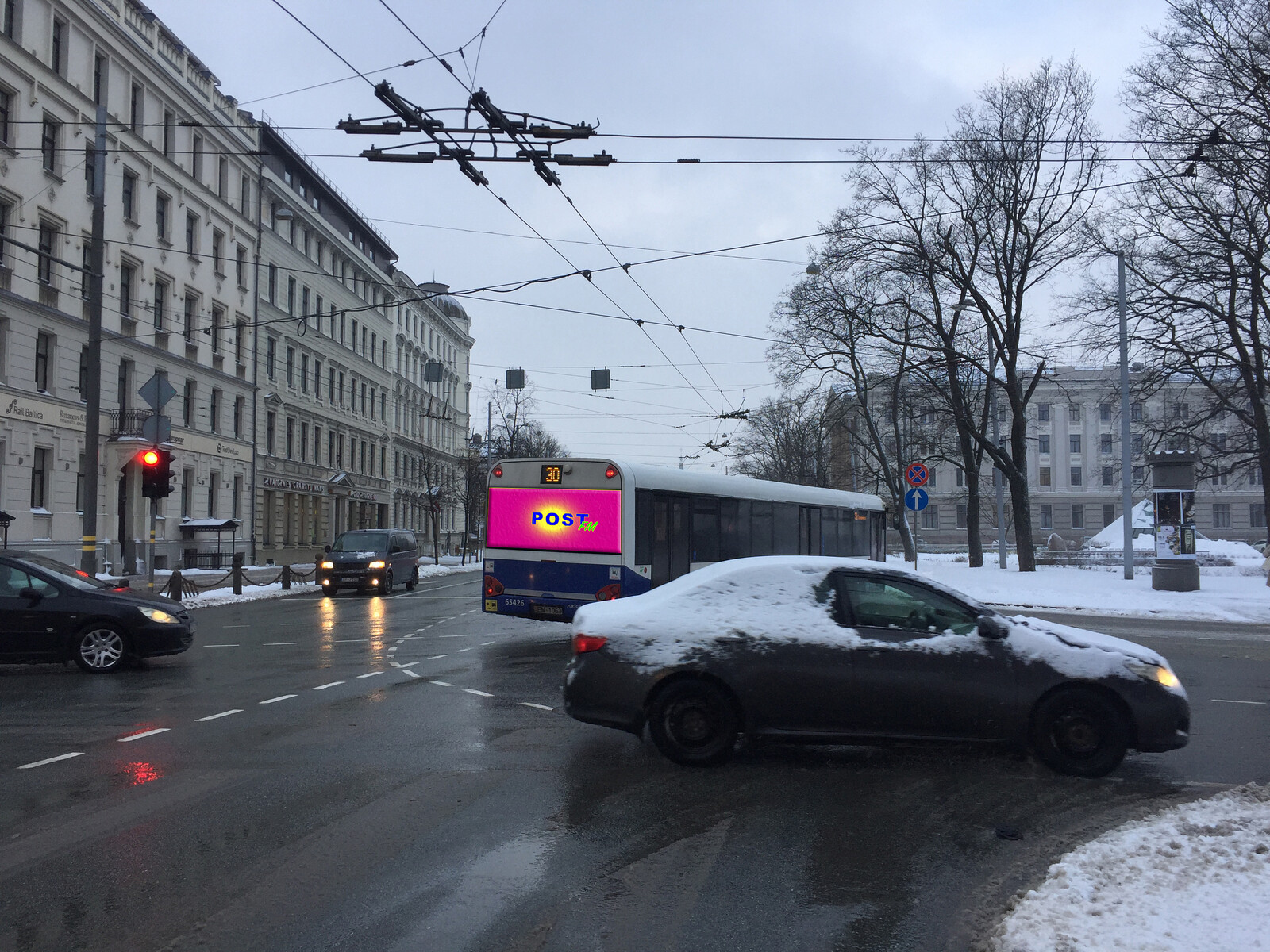 Poster for POST FM, 2022. Photocollage: Krišjānis Elviks.
A related "Theory" course called "Creative and Uncreative Writing" offers students the opportunity to look closely at the relationship between text and images in contemporary culture, informed by the practices of modernist art and literature. Mentioned by POST students as one of their favorite classes, "Creative and Uncreative Writing" encourages students to explore visual poetry, avant-garde literature, manifestos, and writing published digitally, as well as conceptual or uncreative writing and the many opportunities provided by twenty-first century social and technological reality and its abundance of printed and digital textual information. For Vērdiņš, "creative" writing refers to the "normal" approach to writing that expresses the author's subjectivity and originality. Following Kenneth Goldsmith's definition of "uncreative writing," [9] Vērdiņš employs ready-mades, appropriation, and documentation to create "objective" texts that reuse existing writing or document some everyday activities. [10]
Students are encouraged to devise their own exhibitions, broadly defined, which may take place in art institutions, public spaces, or online. As "miniature research models for extensions of experiences," [11] exhibitions encourage students to work with collaborators, whether on institutional projects or activism in public space or experimental interventions in the social fabric. Recently, in collaboration with Radio NABA, a station in Riga, POST has developed the interdisciplinary project "POST FM," in which students Krišjānis Elviks, Madara Gruntmane, Anna Malicka, and Agate Tūna stage conceptual propositions over the radio and take audiences to a fictional public institution, weaving together personal stories that voice the unspoken with meditative string music and collages of everyday noise. Through this program, students have introduced the Latvian public to experimental art practices. Tūna explained that the project offered an opportunity to "explore other mediums besides the ones I am comfortable in, painting and photography," and that "POST allows free space for experimentation with interdisciplinary media. There are no restrictions on what you want to achieve, only encouragement and support." Tūna noted that at POST she has evolved as a person and an artist, underscoring the program's emphasis on making art about change, endurance, and crisis, as well as inspiring its students to engage the world.
Tethered neither to the past nor convention yet cognizant of history, POST is at the center of a growing conversation about the state of art education both regionally and internationally. Instead of knocking their heads against the walls of the Academy or the canon, the tutors assert POST's public presence while accepting its more marginal (temporary) status. POST embraces the wild potential beyond treading water and seeks to dive into art and reality. Of course, as it continues to develop, POST faces many of the problems that haunt educational, participatory, socially engaged art initiatives. One of the main issues is inadequate funding, as the educational system in Latvia has not recovered from the 2008 economic crisis and is now facing an even larger one due to the pandemic and the ramifications of war in the region. As the local art market is very scattered and state funding for art and culture is scarce, support for experimental art practices is lacking. It also has been difficult to establish alliances with institutions in neighboring countries due to the rising prevalence of right-wing politics in regional educational systems and cultural institutions. POST encourages students to take active positions as citizens against the centralization of power and canons that dictate what art should be or what it should look like. A point of hope embedded in the program and its practices and the conceptual approach of its founders is that these problems will be explored in the tension between being inside and outside the Academy, between being in the EU and on the geographic, social, economic, and cultural periphery of Europe, and between closeness and publicness. In this way, the program offers methods for reflecting on the profound challenges of forging a creative community in this time of great peril and uncertainty in Europe while insisting on the visionary potential of such an effort.
This approach is perhaps best encapsulated by POST's founding inspirational quote. With every new swimming stroke explored—every new initiative undertaken by POST—this space of experiment and discovery expands and diversifies. The program has a fresh and supportive spirit that is unlike most Western MFA programs, defined as they are by intense competition and crippling anxiety. Since POST's launch at the height of the pandemic in 2020, when students and tutors could only meet on Zoom and questions of cultural isolation, new kinds of education, and the role of art and artists in society became paramount, the program has developed into an aesthetic and intellectual exploration, a way for artists to understand their own issues with history and identity and channel their questions into new forms of artistic research and work that might find its way into the public sphere of an integrated Europe and beyond. POST's aesthetically and politically charged courses, conversations, practices, and experiences encourage students to think, create, feel, and laugh all at the same time. This combination, rare in art education anywhere, is vital in the Baltics' cultural and political context, in which questions of autonomy, knowledge construction, and the need to reckon with history, current crises, and the looming threat of war in Europe are ever more demanding.
Dr. Corina L. Apostol is a curator at the Tallinn Art Hall, curator and member of the steering committee of the international practice-based research project "Beyond Matter" (2019–2023), and the curator of the Estonian Pavilion at the 59th Venice Biennale (2022). She curated the Shelter Festival "Cosmopolitics, Comradeship, and the Commons," at the Space for Free Arts in Helsinki (2019). She was the Mellon Fellow at Creative Time, where she co-edited "Making Another World Possible: 10 Creative Time Summits, 10 Global Issues, 100 Art Projects" and co-curated the Creative Time Summit "On Archipelagoes and Other Imaginaries" (2018) in Miami. Corina holds a Ph.D. from Rutgers University, where she was the Dodge Curatorial Fellow of Soviet Nonconformist Art from the Soviet Union at the Zimmerli Art Museum. She is the co-founder of ArtLeaks, and editor-in-chief of the ArtLeaks Gazette. She was longlisted for the Kandinsky Prize (2016) and the Sergey Kuryokhin Prize (2020). She is the winner of the apexart 2022–2023 exhibition proposals competition in New York.
---
[2] Mark Allen Svede, "Latvian Art after Socialist Realism," in Art of the Baltics: The Struggle for Freedom of Artistic Expression under the Soviets, 1945–1991, vol. 4, ed. Alla Rosenfeld (New Brunswick: Rutgers University Press, 2002), 185–275.
[3] POST's founding was supported by Kristaps Zariņš, acting rector of the Art Academy of Latvia.
[4] Kristaps Ancāns, Armands Zelčs, Amanda Ziemele, "POST Program Description," unpublished, unpaginated, 2021.
[5] Kristaps Ancāns, interview with the author in Riga, February 2022.
[6] Kristaps Ancāns, interview with the author in Riga, February 2022.
[7] Kristaps Ancāns, Armands Zelčs, Amanda Ziemele, "POST Program Description," unpublished, unpaginated, 2021.
[8] Ibid.
[9] Kenneth Goldsmith, Uncreative Writing (New York: Columbia University Press, 2011).
[10] Vērdiņš published the collection Gatavā dzeja (Ready-made Poetry) in 2020. The poems recycle texts that circulate in the public sphere: user manuals, emails, news websites, announcements and materials shared by Facebook users, as well as Google search results and clips from administrative, scientific, and journalistic texts.
[11] Kristaps Ancāns, Armands Zelčs, Amanda Ziemele, "POST Program Description," unpublished, unpaginated, 2021.